I believe that in today's changing world the collective focus is turning toward being conscious.
People are pulling inward, taking stock of what is important to them, making taking care of themselves and building their personal communities a priority. For many, gone are the days of accepting an over scheduled calendar and the value once placed on busyness has generally been replaced with spending time, energy and money on something that matters to the bigger picture. Enter here conscious events.
What is a "conscious" event?  This word gets thrown around a lot these days.  But the true "conscious" event is one that grows your organization by growing its long-term impact, increasing its ability to change the world for the better, and for good.
This can often be done while improving the bottom line as well.  This happens only when your message is heard and received by the people who can make that difference.  In an increasingly overcrowded and hyper-competitive world of feel-good business, this is easier said than done.
How can you produce a conscious event?
Give back
People are bored with sitting in a stark ballroom listening to the same formulaic fundraising speech over and over again and forcing themselves through small talk while in an uncomfortable formal-wear get up. Treat your guests to a chance to participate in building something together-figuratively or literally- that directly benefits their own community in just a few short hours. People will leave your event delighted by their positive impact in their own community and will love having something tangible to show for it. This is a step toward building brand ambassadors and future and/or increasingly loyal funders for your company as well. When done correctly the event sponsor will gain some press, goodwill and add bonus points to their brand for being associated with your give-back event.
Be a truth teller
Many people today will likely agree that circumstances across the board are difficult-to say the least. The political landscape is hard to swallow no matter which way you identify, issues that once largely remained behind closed doors are now creating cultural chasms and reports of mass shootings are becoming much too common place. Create a safe atmosphere that encourages people to speak frankly and share their truths. Set the tone making non-judgment and open-heartedness tenants of the event. Then, watch as a movement happens organically and holistically. This is change in the making.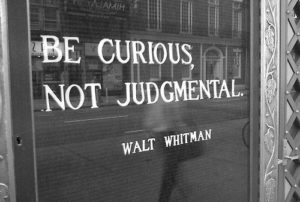 Provide opportunity to be in community
Nothing will keep people coming back to your events time and again and do more for your efforts to change the world for the better than consciously designing opportunities for the event guests to experience being in collective community with each other.
Everyone, and I mean everyone is looking for where they belong, where they fit in and where their tribe is. In Brene Brown's book, Braving The Wilderness she says, "not only do moments of collective emotion remind us of what is possible between people, but they also remind us of what is true about the human spirit." The centerpiece of any great event should be a community building opportunity. Whether this is a moment of silence, a protest, a big reveal, a dance number or a march the closer your event guests feel to the other people around them the deeper the mission of your event will root and the better for your brand.